In theory, when it comes to interior design, anything is possible. In reality, it is often best to follow the main trends and best practices when it comes to designing your meeting rooms.
Start by considering styles from the perspective of your employees and clients. Will they be excited about spending an hour between four white walls, no windows and dull light? Everyone will be much more comfortable and inspired to work with a little design and personality.
Here are some tips for a comfortable, practical and stylish meeting room.
1. Enhancing the old
Part of the modern design aesthetic is to highlight older elements. It will depend on the space you have available, but an exposed brick wall or some industrial touches can give your meeting room a modern and unique look.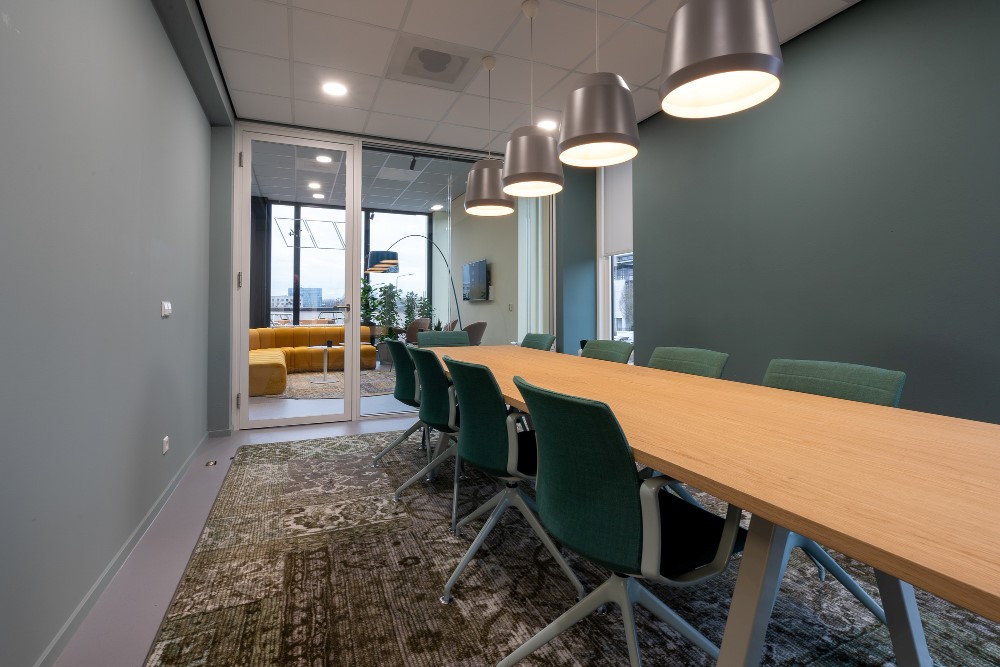 Here, the incorporation of a vintage rug in a more modern design room brings an original and cosy touch.
2. Ensure design consistency
Once you have decided on a design perspective – playful or more traditional, for example – make sure that the room as a whole reflects this. It should capture attention and encourage creativity, while maintaining a sense of authenticity.
3. Taking inspiration from nature
Incorporate biophilic elements into your meeting room design to improve productivity, focus and well-being during collaboration. Bringing natural elements from the outside in will help make your meetings much more positive and effective. Add reclaimed wood furniture, walls of "living" plants, a water wall or fountain, windows or natural ventilation to your room design to give your space a refreshing atmosphere!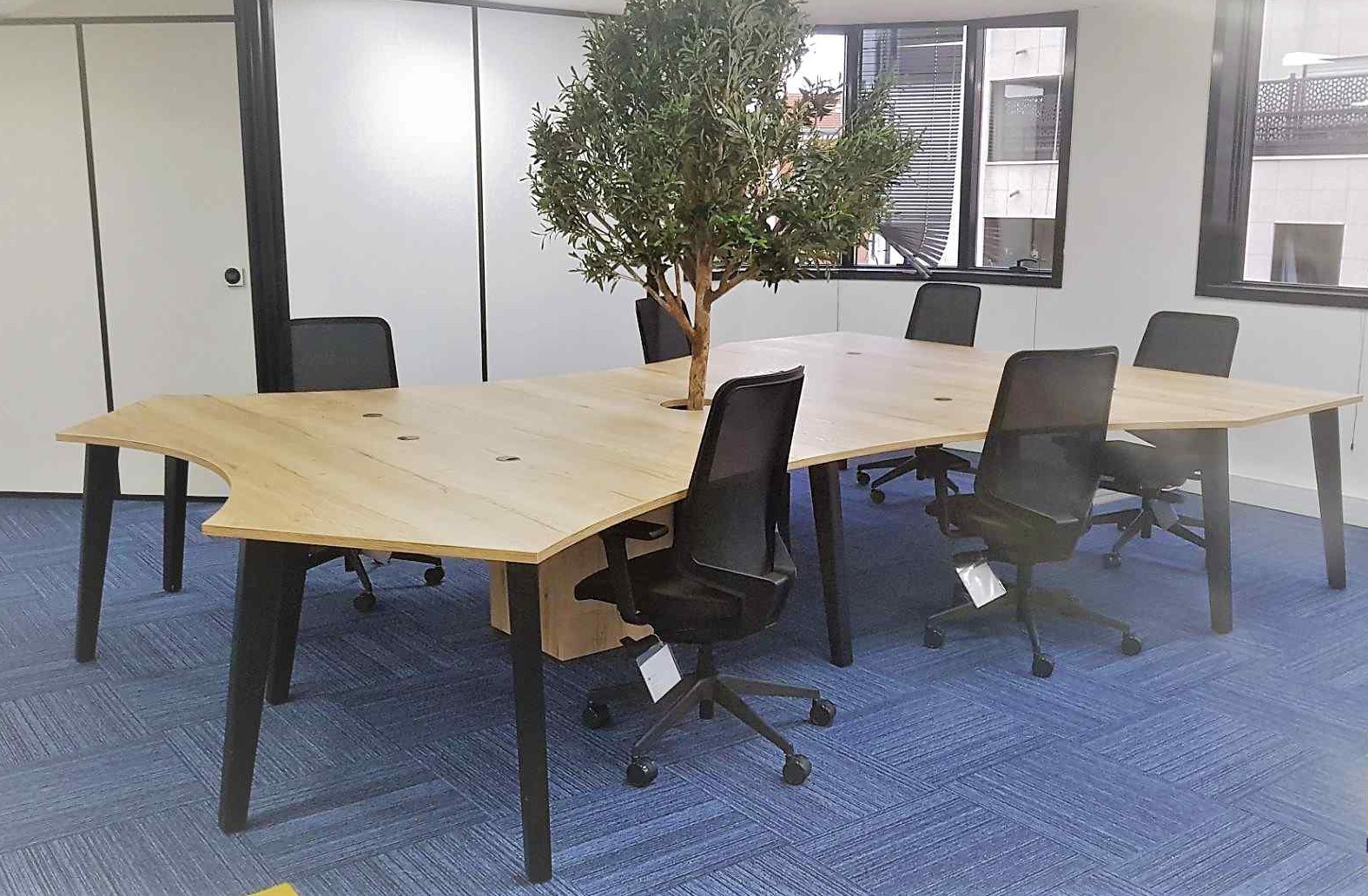 For this client, we incorporated a plant into their custom-made meeting table. An original way to surround yourself with nature!
4. Investing in mobile furniture
Some meetings are static. While there's nothing inherently wrong with that, for some businesses, effective communication requires more kinetic energy. Consider lightweight, reconfigurable or wheeled furniture if your meetings are likely to turn into activities – or if you simply want to be able to easily change the layout of your room.
5. Adding a touch of colour
Using your brand colours can help reinforce your organisation's culture and make a strong impression on any visitor.
Colour theory can also play a role in the design of the room. Cool colours bring a sense of calm, while bright, bold colours can increase the energy of meeting participants. Pastels and neutrals can make your rooms feel fresh and modern, while dark colours and woods are more classic and timeless.
With this client, for example, the colour of the chairs adds dynamism to the meeting room.
6. Focus on convenience
Make brainstorming sessions and other meetings more comfortable by providing extra facilities for participants. For example, a fridge stocked with snacks and drinks, or a coffee machine can help people feel more comfortable during long meetings. Also invest in tables with mini-cabinets so that your participants can keep their personal items safe during the meeting. Don't forget to provide one or two bins for waste.
7. Thinking about technical requirements
Audiovisual technology
A designer meeting room is nothing without state-of-the-art technology. Before you begin the aesthetic design, make sure you have documented clear technology requirements. For example, if you plan to invite remote participants on a regular basis, you will need to ensure that you have a camera that films the entire room and a sufficient number of video monitors or a screen large enough to view remote participants and presentations simultaneously. Such a large amount of equipment will mean a lot of cabling, which will need to be factored into your design.
Collaboration tools
If your room is going to support brainstorming, you should consider incorporating collaborative technology. There are now interactive whiteboards that can share a digital version with remote participants. Whiteboards take up a lot of wall space, which can detract from the room layout. This can affect the layout of the room, so you need to think about how to store them when they are not in use.
Lighting the room
Just like the function of your room, the lighting should be flexible. If you are giving presentations or video conferences, the lighting should be bright. Large windows allow employees to feel fresh and relaxed. Dark rooms are better for project presentations. When designing the lighting, consider the flexibility of the space. In any case, it can be interesting to be able to adjust the intensity and colour temperature of ceiling lights.
---
Motilde, thanks to its dual competence as a fitter and audiovisual integrator, will be able to assist you in the design of your meeting room. Do not hesitate to contact us for a personalised study!
Passionate about crafting workspaces that ignite collaboration, innovation, and productivity?
Download our free Ebook :