Industrial monitoring
Advanced tools for uninterrupted monitoring of industrial processes
Our supervisory expertise
Industrial oversight solutions optimize equipment management and strengthen safety protocols.
We provide expert guidance to businesses in setting up and maintaining their industrial oversight systems.
Oversee the real-time performance of an industrial facility or equipment from your control center, gather insights on operations and processes, and refine your decision-making strategies.
We collaborate with diverse sectors and entities, including transportation, agri-food, electronics, energy, wastewater treatment, chemicals, and more.
Setting up an industrial supervision system: benefits
Improved operational efficiency: By monitoring production processes in real time, you can detect problems early and take immediate corrective action, optimising equipment performance and reducing unplanned downtime.
Informed decision-making: Industrial supervision provides managers with real-time data on the performance of production processes, enabling them to make decisions based on accurate, up-to-date information.
Optimised use of resources: Thanks to accurate data analysis, you can easily identify savings opportunities and implement measures to optimise the use of resources, thereby reducing production costs.
Improved quality: By monitoring production parameters in real time, you can intervene quickly to correct errors and guarantee consistent product quality.
Enhanced safety: Industrial supervision monitors production equipment and processes to detect dangerous situations or potential faults, enabling preventive measures to be taken and reducing the risk of accidents.
Industrial supervision: the tools
We offer powerful tools to optimise processes and maximise operational efficiency.
Our real-time data collection systems enable continuous monitoring, while our intelligent control functionalities facilitate informed decision-making. With Motilde, you benefit from a complete solution that helps you better understand and control your industrial activities.
Collecting data
Hardware sensors (IP camera, Air pod, T°, etc.)
Software connectors (servers, routers, applications, etc.)
Monitor relevant data
Display in control room or on decentralised operator stations
Analysis and scenarios (tracking of scheduled or unscheduled events, process metrics, sensor operation, abnormal situations, etc.)
Event management
Control room, video wall, SCADA, etc.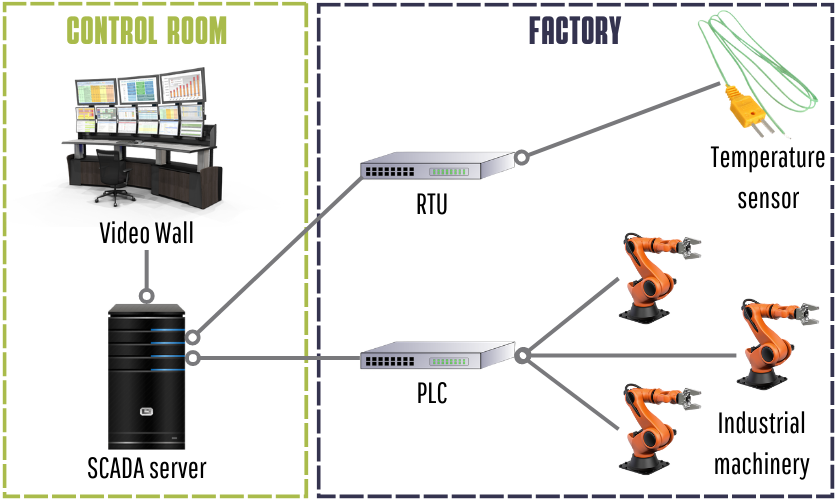 SCADA (Supervisory Control and Data Acquisition) is a category of software applications for controlling industrial processes.
The fundamental principle of SCADA is to offer users the possibility of:
Interact with machines in real time, regardless of the distance between them.
Visualise complex processes through interactive and visual graphical interfaces.
Be informed of the status of a process thanks to an alarm management system.
In other words, a SCADA system provides intuitive management of sensors, PLCs, machines and actuators within a control room.
SCADA acts as a link between operational technology and information technology.
For instance, in industries such as energy and wastewater treatment, large distances need to be managed, making the integration of a man-machine interface essential for controlling operations.
Full support: from process design to project implementation
We support you throughout your industrial supervision projects:
At the start of your projects: consulting, project management, studies
Implementation of your global solution: integration, installation, training
Operation: maintenance, lifecycle, runtime
Get a free quote tailored to your needs
Trust Motilde to guide you through the optimisation and design of your industrial supervision environments.
Thanks to our solid understanding of industrial spaces and processes, as well as our expertise in ergonomics and technology integration, we can offer you a tailor-made solution that perfectly meets your needs and budget.
Contact us now for a personalised quote. A specialist engineer will get back to you as soon as possible!
Download our free guide :
Our latest blog posts on industrial supervision