Digital Signage
Digital signage solutions to engage, entertain and inform
Our expertise in AV integration
Digital signage is an excellent way to interact with your customers or employees, to share information, to attract attention or simply to create an innovative space.
In short, it is a communication tool that allows you to display any type of multimedia content (video, image, text, music, website, webinar, etc.) on a set of screens.
These screens can be fixed to the wall, suspended from a ceiling support or integrated into a floor stand or a visiopanel, in portrait or landscape mode.
Why opt for this type of display?
Generally used to promote, advertise or inform, these screens can be seen as displays that stimulate sales or improve communication.
Here are some of the many advantages of using digital signage:
Improves the aesthetics of a space
Ability to schedule content at specific times
Reduces perceived waiting times (in the case of a waiting room for example)
Messages are easy to change
Reduces frustration and anxiety (e.g. in the context of an information point or plan)
Effortless management
We offer a wide range of digital signage products & solutions
Common examples of the use of digital signage, depending on the usage scenario:
Public – location-specific information (news, weather, traffic, etc.), maps, orientation
Business – knowledge sharing, meeting room booking, meeting coordination, training
Tourism – orientation, points of interest, city information
Retail – self-service checkout, product display, smart mirror
Restaurants – self-service, digital menu board, self-service ordering kiosk
Marketing – promotions, ambience
Museums – orientation, digital tours, visitor registration
Etc.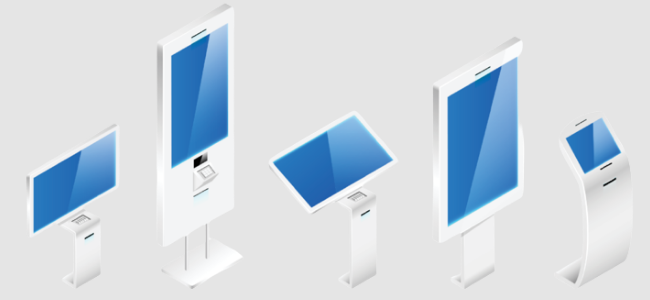 Our expertise: from design to implementation
Each installation of display material is meticulously designed and executed by our teams.
We keep you informed throughout the process.
You can also choose to contract only part of our services:
Request a free customised quote
As independent integrators, we work with a wide variety of brands, depending on your needs.
Whatever your challenges, our team of highly trained AV professionals will work closely with you to design a solution that will fit your business perfectly.
Contact us to receive your personalised quote and a specialist engineer will get back to you as soon as possible!
Digital Signage: Our latest blog posts