In this post we describe in general terms the equipment needed in the operating room and more specifically the contribution of audiovisual solutions to improve efficiency in the OR.
The complexity of the modern operating theatre is increasing as new devices, processes, surgical technologies, communication methods and the need for real time patient data enter the surgical field. Hospitals, clinics and outpatient surgery centres must also adapt to new guidelines to limit exposure to infectious diseases without compromising patient care or staff safety. In this particularly challenging environment, medical teams need to be able to rely on their equipment.
Defining the material requirements for an operating theatre
The most important piece of the puzzle is to know what your facility needs. Before you start shopping, talk to the surgeons, nurses, the OR manager, the care manager and other staff members. Find out what hardware, software and workflows they need for their daily work and what their requirements are for an efficient operating room.
Don't forget to also ask them what they think they will need in 5 or 10 years' time. If well designed, a digitally integrated operating theatre should be able to adapt and evolve with the latest technological advances. If, after all this, you are still feeling overwhelmed, seek advice from an equipment planner or OR consultant. They will be able to point you in the right direction and make the best decision for the long-term success of your operating theatre.
Common operating theatre equipment
There is a wide range of basic surgical medical supplies that every healthcare facility's operating room should have in stock. Each item has a specific function and makes it easier for your surgical team to work at the highest level.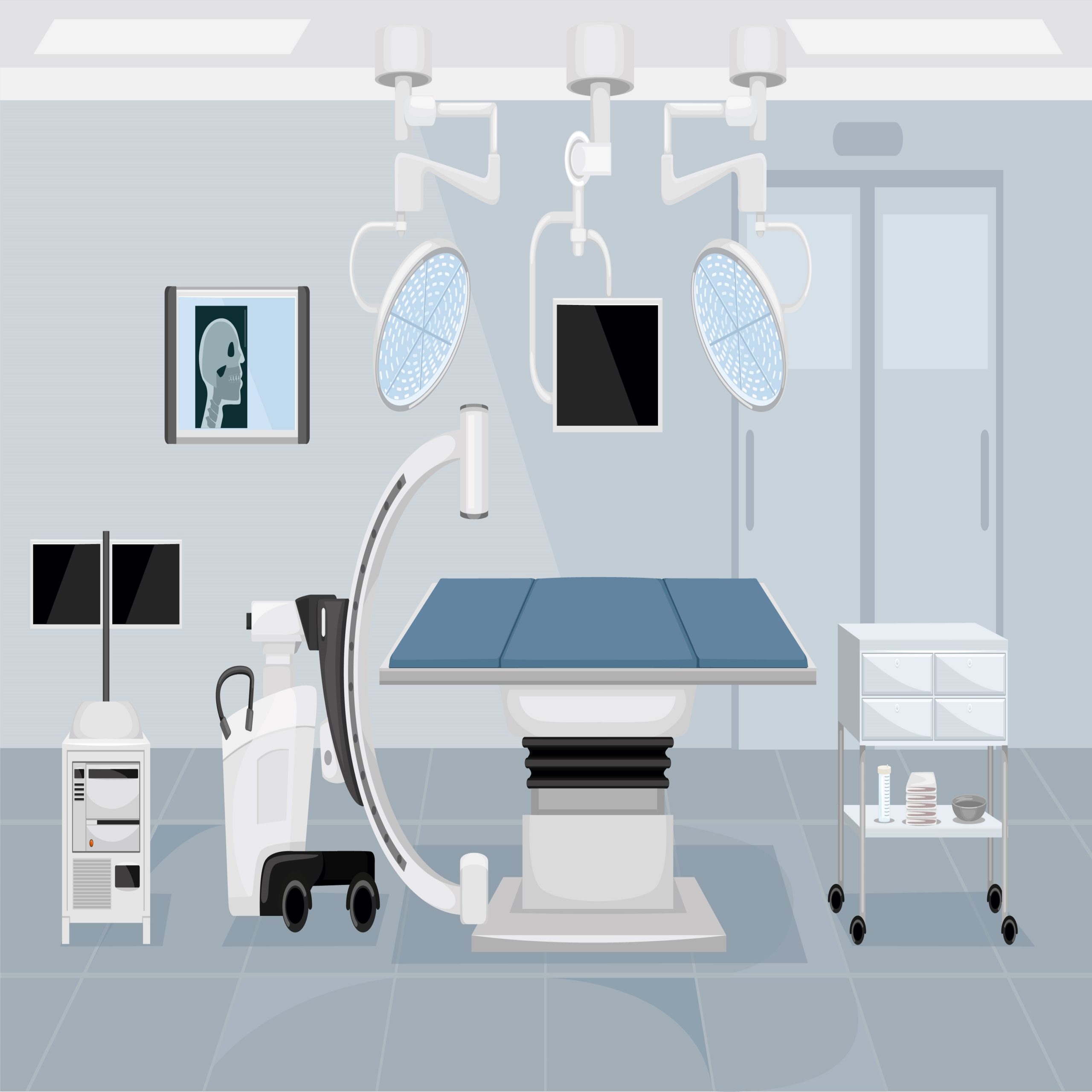 Surgical tables and accessories
Clamps
Disposables and consumables
Equipment covers
Emergency power supply
Restraint straps
Head Supports
Anesthesia screens
Surgical and examination lights
HD surgical cameras…
Audiovisual equipment for operating rooms
The importance of AV equipment in ORs
Audiovisual equipment boosts the operating theatre's performance: caregivers rely on it to exchange, control, supervise or simply follow the progress of the operating process.
They are useful for :
Manage operating theatres to optimise the presence of the right skills and qualifications in the theatre.
Improve the flow of materials and consumables by putting the information medical teams need at their fingertips.
Enable OR staff to collaborate remotely with their peers via video conferencing before, during and after surgery.
Minimise traffic in the operating room, thereby reducing the risk of patient infections.
Address the headache of staffing requirements by coordinating the workflow remotely.
Checklist of audiovisual equipment suitable for the clinical environment
Video
Healthcare organisations may be reluctant to use cameras in the operating room for two reasons: the cost of the equipment, and regulations regarding patient privacy. However, the impact of video on increased OR capacity, improved patient safety and training is notable. Video equipment allows real-time communication (via video protocol or streaming), but also recording for training or best practice analysis
Finally, the various videos from the operating rooms can be displayed on a large screen in a coordination room to visualise and control operations in real time.
Audio
The idea here is to connect the various players in the OR to enable a rapid exchange of information either on a one-to-one basis or by group.
The following equipment may be an answer:
An IP telephony system that intuitively and reliably connects the various caregivers
Ceiling microphones in the operating room provide excellent sound quality for easy communication
Wall-mounted speakers in the operating room coupled with more discreet earpieces allow a choice between general or more personalised broadcasting of information from the outside
A holistic approach, at the clinic level
For effective and reliable communication, the integrated operating room, data network and audiovisual technology must be designed as part of an interconnected whole. Design and planning must be coordinated to address issues of resolution compatibility, signal transmission, network configuration, bandwidth availability, reliability and information security.
---
To help you in the audiovisual installation of operating rooms, call on experts: Motilde offers you a solution for the supervision / coordination of operating rooms, through audiovisual and digital tools. Contact us to find out more.
Do you want to implement or optimise a control room?
Download our free guide: