Zoom makes simple and secure virtual meetings possible, whether your teams are working in person or remotely. Zoom's video conferencing solutions are not the only products from the California-based company.
Zoom Phone, for example, allows users to easily communicate via the cloud, leveraging traditional PBX (Private Branch Exchange) features and PSTN (Real-Time Control Protocol) architecture.
Launching in January 2019, this solution aims to unify all your business communications with video, voice and messaging on one platform.
Since the summer of 2022, it can also be found in a new all-in-one communication offering from the leaders in video conferencing: Zoom One. This package combines products made to work together for smarter collaboration: chat, phone, whiteboard and video meetings.
We take a look at this VoIP service to better understand its features and what sets it apart from its competitors in a relatively crowded business communications market.
Zoom Phone: How it works
Zoom Phone works like other hosted VoIP telephony solutions, but with additional features such as the mobile app, SMS to chat with your customers, unlimited auto-responders, voicemail transcription, unlimited national calling and, of course, web meetings.
With Zoom Phone, you have a unique platform to communicate and collaborate with your customers and collaborators.
The Zoom Phone system is compatible with Windows, MacOs, iOS and Android applications.
The benefits of Zoom Phone
Some will argue that to make a phone call via Zoom, it is possible to initiate a video conference without the camera. While this is technically true, Zoom Phone offers many advantages to enhance your phone experience:
Keep the existing
Zoom Phone offers BYOC (Bring Your Own Carrier) support. In other words, you can use your existing phone provider when you sign up for Zoom Phone.
You won't need to install new hardware or deal with downtime. Configuration is fast and you can maintain contact with your customers during the transition to this platform.
Number portability is an important part of VoIP because you need to remain available to customers when you move from PSTN to VoIP. Zoom has local number portability (LNP).
An interrupted communication
One of the most useful features for your mobile workers is the ability to switch your call from one device to another without losing the connection. So you can start a call on your computer while you're working, then transfer it to your cell phone in the middle of the call if you need to go somewhere.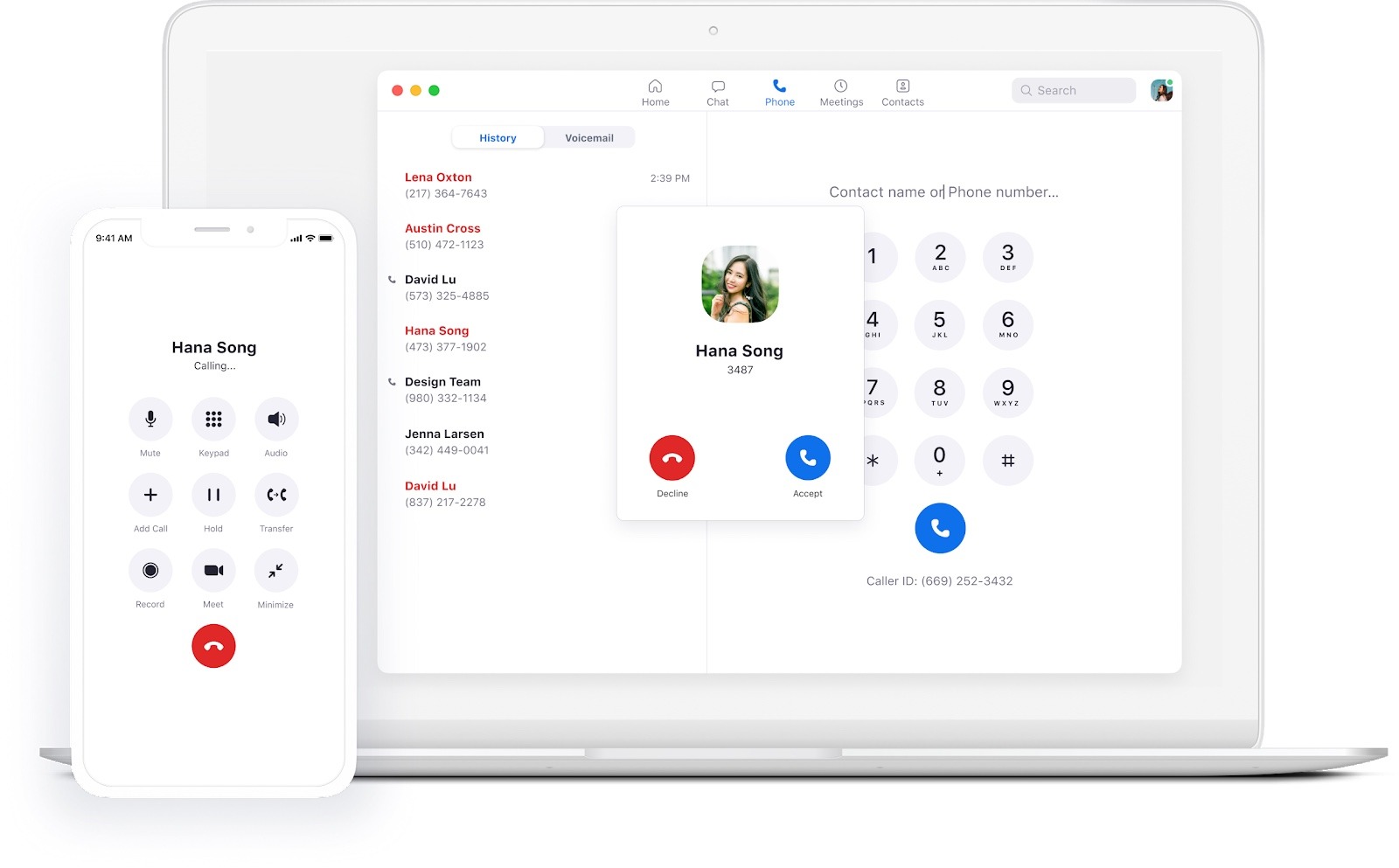 Simplified integrations
The platform integrates perfectly with other Zoom products, but also with external tools, such as Salesforce, Slack, Microsoft Teams, Google Workspace… Zone Phone also offers integrations for call centers, such as Genesys, Twilio, or even Five9.
Discover the complete list of possible integrations with Zoom Phone.
Training tools
Particularly useful in call centers, for example, these Zoom Phone options were created for coaching purposes:
Call Listen – Listen to a call in progress without either party being aware of it. This feature was developed as part of a call quality control process.
Call Whisper – "Whisper" directly to agents when they are on the line. With this tool, only the agents hear the supervisor.
Call Barge – Add yourself to an active call as a participant.
Call Takeover – When events take a turn for the worse, supervisors can use the takeover feature to remove the agent from the call and take over the conversation.
Zoom Phone also offers…
Enhanced options for receptionists and executive assistants, such as assigning a delegate to screen and place calls on your behalf, placing a call on hold and picking it up from another Zoom phone terminal, and the ability to see if a contact is available before transferring a call.
Call recording and voicemail that allows you to easily listen to messages or read their transcripts on any computer or mobile device.
Secure HD audio for clear and confidential conversations.
Interoperability with Yealink and Poly terminals.
Want more details on how to combine your phone system and video conferencing into one solution?
Motilde offers a complete Zoom ecosystem: desktop licenses, Zoom Room, Zoom Phone, dedicated internet access, videoconferencing… We are your single point of contact for maximum simplicity and efficiency. Do not hesitate to contact us!
Create an all-in-one collaboration environment and access your video calls in one click with Zoom Rooms!
Download our free guide:
FAQ – Frequently Asked Questions – Zoom Phone
VoIP stands for Voice over Internet Protocol. It is a technology that allows you to make calls using an Internet connection instead of a regular phone line.
What hardware do I need to make calls via Zoom Phone?
You can use headphones or headphones to enhance the audio quality, but using Zoom Phone via your laptop or mobile device does not require any additional equipment.
Do I need to download the Zoom application to use Zoom Phone?
Zoom Phone calls are made from the Zoom application, so the caller ID will be your UM number. You can also use the Zoom application from your computer.
To receive calls, the application must be running on your device, but it can be minimized when not in use (option to configure from the application settings).
Is it possible to answer a Zoom phone call during a regular Zoom meeting?
Yes, when you are in a Zoom meeting, you have the option to put the meeting on hold and answer, end the meeting and answer, or ignore the call, which sends the caller to voicemail.If you wish, you can change your Zoom settings so that phone calls do not interrupt your Zoom meeting.
You can also answer the call on your smartphone while you are in a meeting on your computer.Finally, you have the ability to escalate any Zoom phone call directly into a Zoom meeting if you want to add features like video or screen sharing.