Creating and promoting a culture of innovation has become more important than ever. While most business leaders recognise the importance of this notion, many struggle to plan proactively for it, particularly in relation to the design of collaborative spaces.
The creativity room is an optimised working space for exchanging ideas and stimulating the imagination of teams. Here are some tips on how to design this space that will facilitate the emergence of new concepts, strategies and innovative ideas.
1. Breaking the codes of a traditional meeting room
To encourage creativity, avoid formal spaces and favour informal spaces that allow your employees to feel "outside the office". To trigger new ideas, it is recommended that your employees feel that they are not in the office routine.
You should also not hesitate to set up a small relaxation area in your creative room. This space can be set up in different ways: table football, coffee corner, adjustable table tennis net…
Furthermore, in a study published in the Journal of Vocational Behavior, having fun is good for business. According to this study, being in a more relaxed work environment would allow employees to free themselves from the inhibitions caused by possible mistakes they might make.
Beware, it is obviously not enough to install a table football to improve creativity. The aim is to provide a pleasant and offbeat environment that allows teams to have time to meet and interact, in a context that is different from that of a traditional meeting.
2. Think about storage
A cluttered room can be a major distraction. When designing your creative room, be sure to provide plenty of storage space to keep the space organized.
With the growing need for technologically advanced collaboration spaces, your creative room will inevitably include one or more screens, cables and other devices.
Attach as many electronics as possible, including TVs, projectors and speakers, while routing cables through the ceiling and walls to keep things practical and tidy.
3. Promoting team cohesion from a distance
Abolish the space barrier for creativity: your teams are not on the same site, but they need to be able to collaborate together. The problem of distance can quickly be minimised with remote collaboration tools.
The players in the field of remote collaboration have had to adapt in recent years to offer new tools, increasingly geared towards exchange and creativity.
For example, our partner Zoom offers a new tool called 'Zoom Whiteboard', which provides a number of collaboration features integrated with the Zoom video conferencing tool:
4. Use appropriate colours
It may seem like a purely decorative detail, but the colours you choose for your creative room can really affect your concentration.
Warm, bright colours such as red, yellow or orange are among the possible choices to stimulate creativity.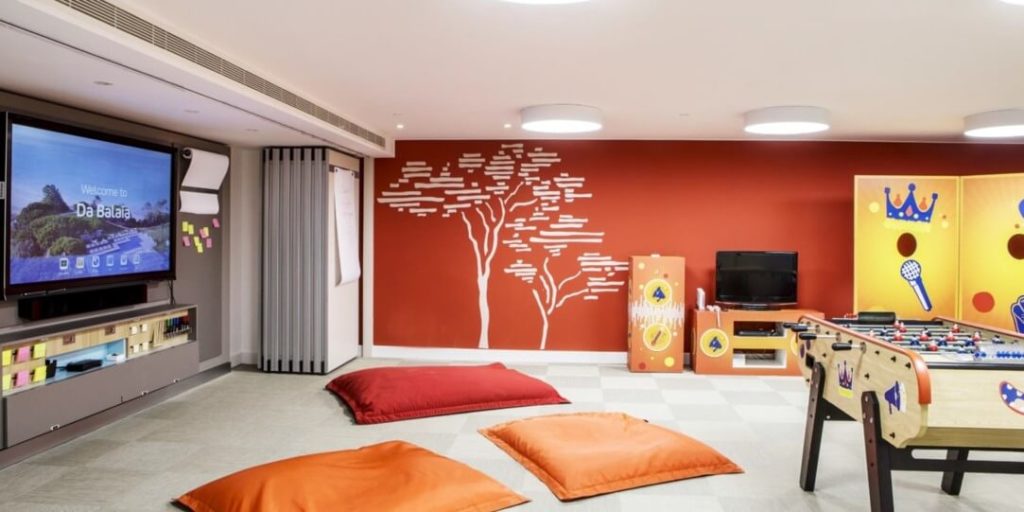 Numerous scientific studies have also shown that green promotes creativity: this colour has a positive effect on our stress.
Of course, you don't have to paint all your walls green! You can use this colour in different ways: paint a wall, make a wall green, use decorative objects (green plants, office objects, etc.).
5. Drawing, schematizing, writing and… erasing
To facilitate your employees' creative thinking, it is important that they can write easily, without limits, to instantly capture their imagination. There is nothing better than providing them with a white wall. This can be the traditional whiteboard, the interactive touch whiteboard or a Velléda table/surface.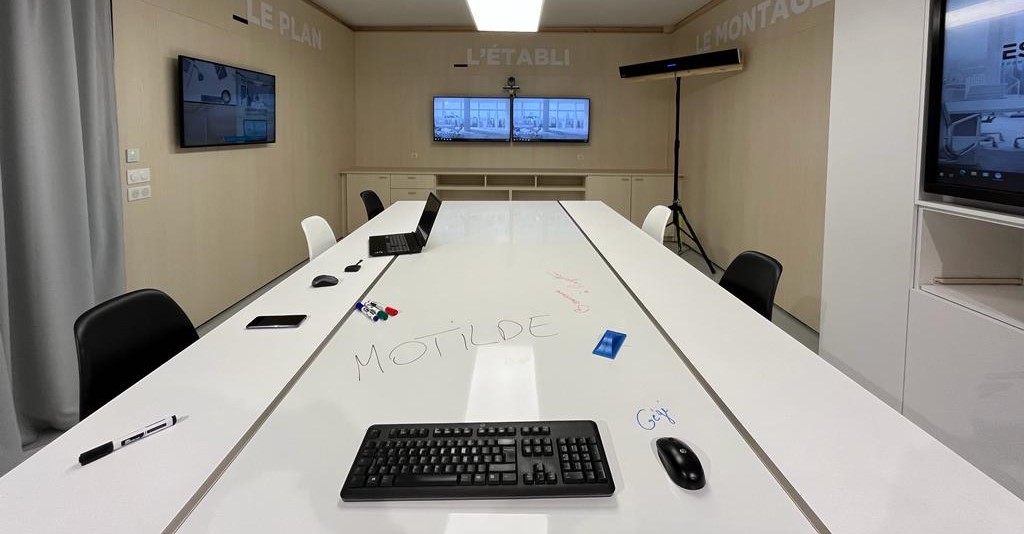 Whatever solution you choose, the important thing is that your employees can erase and start again without restraint.
6. Bringing flexibility with technology and modular furniture
Creativity requires the ability to move around the space, either individually or in groups. Offering furniture on castors, for instance, makes your space reconfigurable and adaptable to all your needs.
Also consider movable partitions to redefine the spaces in your creativity room, especially during brainstorming sessions that involve the creation of several working groups.
As far as the audiovisual equipment is concerned, the various peripherals (screens, cameras, etc.) should incorporate mobile technologies (wireless HDMI, Wifi, HF, etc.). In addition, a touch screen that allows the installation to be reconfigured with a click will prove useful.
7. Choosing an inspiring name
Give your creative room an original name, if only to distinguish it from other meeting rooms.
8. Think about lighting
Traditionally, it is recommended in a collaborative meeting room to have good visibility on the screens, while having good luminosity on the notes, which technically translates into a uniform illumination of 500 lux. This is not the case in a creative space where there are different spaces in the same place: convergence space, divergence space, etc…
The alternation of postures will naturally lead to an alternation of lighting in terms of intensity and colour temperature, or even colour altogether. The aim is to create an intimate atmosphere, where participants feel at home, and a more neutral, intense lighting that will encourage convergence.
For intimate lighting, you can opt for table lamps, floor lamps with warm colours, backlit pictures, …. In addition, these different lighting fixtures are a decorative asset to disrupt the "office space" marker.
For other spaces, however, you can opt for LED tiles with controlled intensity and colour temperature, which will allow you to switch from an intense natural light to a cooler white for the convergence phases.
---
As you can see, there are several elements that can make your creativity room a real success. Motilde, with its experience in the design of collaborative rooms, can help you in your approach to designing a creativity room. Do not hesitate to contact us, we will be delighted to help you 😉
Innovation is the key to success!
Download our free guide: